March 6, 2019
Beach Clean Up with Team FRiENDi mobile
The team gives back to the community with a beach clean-up event.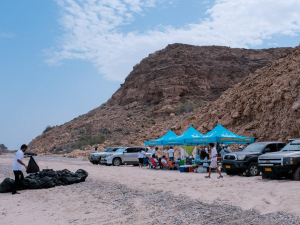 Muscat, March 06, 2019: FRiENDi mobile will soon be observing its 10th anniversary in the year 2019. To add to the celebrations, the team got together at Dhabab, about 120 KM from Muscat, to clean up the beach as a gesture towards giving back to the community as well as raising awareness of environmental pollution.
At the beach without sand, also known as the "Pebble Beach", one of the few in the world, the FRiENDi family came together to clean as well as to celebrate. Creating a culture and setting milestones for future generations, the team is very proud of this accomplishment.
A BBQ prepared by the team was the other highlight of the event apart from the huge collection of trash at the venue. The team hopes to inspire the youth of Oman towards preserving its pristine beaches and natural beauty.
Media Contact
For further information or to request an interview, please contact:
FRiENDi mobile Oman
Joseph Rajan, Marketing Operations Manager
Phone

+ 968 24584713

Email