May 4, 2016
Big Data. Small Prices.
FRiENDi mobile launches plans with more value and flexibility.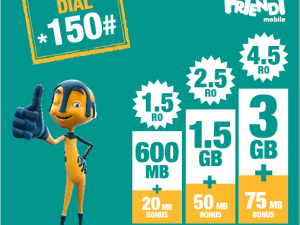 Muscat, May 04, 2018: With a 600,000 strong customer base, FRiENDi mobile, has entered its eighth year of operations in Oman with three new data plans that seem to demonstrate its commitment towards changing the experience of its customers' mobile life.
Alex Bennett, CEO, FRiENDi mobile, said that the company focuses on providing great value mobile services to the expatriates in Oman who have a piece of their heart abroad. This includes a large proportion of Indians, Bangladeshis and Pakistanis and a spread of worldwide nationalities besides Omanis.
Describing the three new data plans under the 'big data, small prices' message – priced at RO 1.5 (600MB), RO 2.5 (1.5GB) and RO 4.5 (3GB) – that were launched on April 14 and will be available till July 12, Alex said that the new plans have already made a huge impact in the market and will, in all probability, continue beyond the promotion period.
"Customers want a mobile service that works for them and service that is fast, is as reliable as possible, and which allows them to change their plan to fit around their individual needs and data usage," Alex said pointing out that, today, it is data which drives people's choices of mobile services.
According to feedback received from customers, they want maximum data allowances for low prices. And if customers run out of data, they want to buy more and get back online straight away, he asserted. So, to satisfy the customers' desire for data, FRiENDi mobile considered innovative ways of providing something different with a great degree of flexibility.
"We considered three aspects of the customer's need – let me buy it when I want, let me renew it when I want and let me change it when I want. So, we came up with three new plans providing big data for small prices, with this flexibility built in. Now, customers can keep buying them or switching between plans as they exhaust their data without having to wait until the end of the month. It gives them a great degree of flexibility as well as freedom of choice, all managed by dialing *150#," he explained.
Also, with the new data plans, if customers repurchase the same plan at any point of time they also receive a loyalty bonus of MBs every time they renew. This is another differentiator to support and reward customers for their loyalty to FRiENDi mobile.
When asked if, based on customer feedback, FRiENDi mobile has brought in changes with regards to making its products more simple and easy to use, Alex said that the main feedback from customers as if it would be possible to buy, renew and change a plan when they want. "So, we thought it was time to not only continue our leadership in providing innovative service but also deliver something that customers want."
About strengthening the brand to attract new users, Alex said the company has kiosks at few places in the city, including the airport and some prominent malls besides certifies branded FRiENDi mobile outlets in Nizwa and Salalah.
The distribution network spreads over 7,000_ shops and supermarkets where FRiENDi mobile recharge cards can be purchased, inclusive of around 1,250+ authorized dealers where SIMs are available for purchase.
Media Contact
For further information or to request an interview, please contact:
FRiENDi mobile Oman
Joseph Rajan, Marketing Operations Manager
Phone

+ 968 24584713

Email