September 15, 2016
Branded partnership with KM Trading a success
FRiENDi mobile partners with K.M. Trading.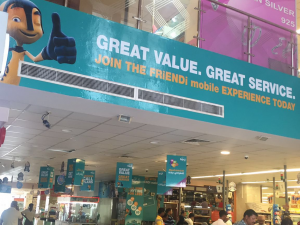 Muscat, September 15, 2016: FRiENDi mobile entered into a long-term partnership with K.M. Trading, a leading hypermarket chain in Oman. The partnership allows FRiENDi mobile to take up large branding spaces at multiple points. The outlet is located at Ruwi High street which has a very high footfall.
FRiENDi mobile is the Sultanate's 3rd largest mobile services provider, dedicated to delivering the best value for money with value-driven 4G mobile data plans, and lower local and international calling rates.
For more information on FRiENDi mobile, please visit the official website on www.friendimobile.om or contact Customer Care on 9840 0000. You can also follow FRiENDi mobile on Facebook, Instagram or Twitter.
Media Contact
For further information or to request an interview, please contact:
FRiENDi mobile Oman
Joseph Rajan, Marketing Operations Manager
Phone

+ 968 24584713

Email