May 31, 2022
JOIN OMAN'S 10 MILLION TREE INITIATIVE WITH FRiENDi MOBILE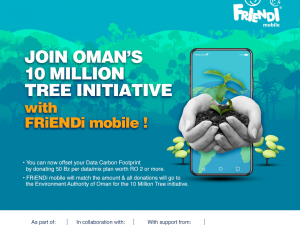 Be a part of Oman's 10 million tree initiative by donating as little as 50 bz with FRiENDi Mobile Oman.
The initiative to plant 10 million trees comes within the framework of boosting protection from the effects of climate change in addition to biodiversity at the level of the fertile environment in many natural habitats and various micro-animals that live in such cultivated environments in the Sultanate of Oman. The initiative aims to shed light on the importance of carbon yield and achieving added value from the Omani wild trees and plant and benefiting from the recycled wastewater.
Let us all join the Oman vision 2040 and work towards reducing our data carbon footprint for the future generations. In collaboration with the Environment Authority of Oman (ESO) and supported by the Telecommunications Regulatory Authority (TRA). Our Journey to sustainability!
Media Contact
For further information or to request an interview, please contact:
FRiENDi mobile Oman
Manal Moosa Al Balushi
Phone

+968 24584700

Email