March 2, 2015
FRiENDi mobile sponsors "Ataullah Esakhelvi Live in Concert"
"Ataullah Esakhelvi - Live in Concert" at the Al Falaj Hotel.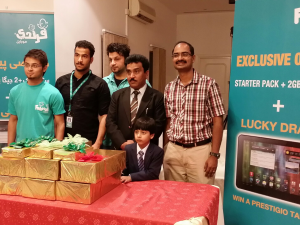 Muscat, March 02, 2015: FRiENDi mobile, Oman's 3rd biggest telecom service provider was the proud sponsor of the sensational 'Ataullah Esakhelvi Live in Concert' event held at Al Falaj Hotel recently. The concert witnessed a roaring response as the crowd cheered to his mesmerizing voice.
Ataullah Esakhelvi, a popular folk, and Sufi singer has received numerous accolades including the prestigious Lifetime Achievement Award by Queen Elizabeth II herself. His songs loved and vehemently followed by the Pakistani and Indian community, made his performance see nothing but a complete houseful. A much appreciated and thoroughly delightful event, FRiENDi mobile believes in going the extra mile to spice up its events calendar with such close associations with world-renowned names from the entertainment industry. It provides an avenue for FRiENDi mobile to connect on a much deeper level with their customers; providing more than just great deals, they bring to their clients something that is enjoyable and can be reminisced even years down the line.
The event also featured an exclusive offer from FRiENDi mobile wherein attendees to the concert could buy a FRiENDi mobile starter pack with 2GB included internet usage. Always showered with the privileges of being a prized FRiENDi mobile customer, they also had a chance to win a Prestigio tablet.
"The music of Ataullah Esakhelvi has been enthralling people all the way from Pakistan to the UK," said Adnan Al Alawi, COO, FRiENDi mobile. "His live performance in Oman has received an overwhelming response and just seeing the excitement surge through our customers makes all our efforts worthwhile."
With plans for yet more glamour-clad events destined to capture the limelight, FRiENDi mobile endeavors to reach out to its customers in new and innovative ways. Treating each segment exclusively, they try to understand each sector's requirement, customizing deals that best suit the demands. "As event sponsors, we look forward to more such associations. We take this as an opportunity to give back to our customers for their endless patronage and faith in our services," said Adnan Al Alawi, COO, FRiENDi mobile.
Media Contact
For further information or to request an interview, please contact:
FRiENDi mobile Oman
Joseph Rajan, Marketing Operations Manager
Phone

+ 968 24584713

Email