October 25, 2016
FRiENDi mobile's Dealer Awards
FRiENDi mobile honors top dealers and wholesale partners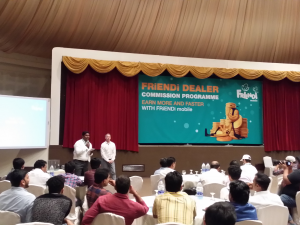 Muscat, October 25, 2016: Placing immense attention and giving due recognition to their dealer network, FRiENDi mobile, the Sultanate's third-biggest mobile service provider, recently conducted a highly successful Dealer meet at the Crowne Plaza Resort, Salalah. The turnout was very positive with over 200 dealers attending the event from across the Dhofar.
The Dhofar region and the FRiENDi commercial operations within the area and the city of Salalah mean supporting the Dealers and Wholesalers with events and recognition is key to supporting development and growth of FRiENDi mobile – an approach we take in all regions, as a nationwide business offering a mobile services for all people living in Oman. Our focus has always been towards building and maintaining support for our dealers so as to enable them to serve our customers better, especially as FRiENDi mobile has around 1500 dealers across Oman selling SIMs and over 7000 shops, outlets and supermarket locations where customers can buy Recharge. The Dealer meet event in Salalah was a fitting occasion to recognize our dealers for their valuable contribution in growing our business.
In the process of announcing the popular FRiENDi mobile Dealer Commission Program, over 20 top FRiENDi mobile Dealers and Wholesale partners from the region were awarded trophies and certificates. Along with providing the needed motivation to perform better, the meet also helped smaller dealers by giving them advice on increasing sales and helping them understand how to exploit the program more efficiently.
The FRiENDi Dealer Commission program is themed around the central idea - "Earn more and faster with FRiENDi mobile". The program ensures that dealers are benefited with every right transaction they perform. Every time the dealer sells a FRiENDi mobile starter pack facilitates a recharge to a FRiENDi mobile customer or activates any of the call or data plans, the dealers earn a commission in the form of Recharge Credit transferred straight to their registered FRiENDi Dealer SIM the very next working day. The commission thus earned can be resold to customers as recharge, enabling dealers to make the most of their efforts. The commissions can be monitored through the FRiENDi Mobile Dealer App, therefore allowing dealers to check the latest commission structures and monitor commission statements. FRiENDi mobile also has a dedicated Dealer Support Team that the dealers can call and reach out to for assistance at any point.
"Each and every one of our dealer's count, as much as each and every transaction that happens. It doesn't matter what the amount is, what matters is that our dealer network is able to reach out, service and assist all our customers," said Alex Bennett, CEO, FRiENDi mobile. "Our dealers are that vital link to our customers and are an integral part of our operations. Their ongoing support, loyalty, and dedication are key factors that make us one of the most popular mobile networks in the country", Alex said.
Being in direct contact with customers, the dealers are able to understand the market better. They continue providing invaluable support by advising customers on the latest Starter Pack promotions, the right data or international voice plans; these factors are crucial to ensure that the customers have a flawless experience with FRiENDi mobile. Conducting each transaction perfectly and dealing with customers in an utmost professional manner, FRiENDi mobile takes great pride in their dealer networks.
Media Contact
For further information or to request an interview, please contact:
FRiENDi mobile Oman
Joseph Rajan, Marketing Operations Manager
Phone

+ 968 24584713

Email