June 1, 2016
FRiENDi mobile's Dealer Commission Programme
FRiENDi mobile invites it's Dealers to "Earn more and faster".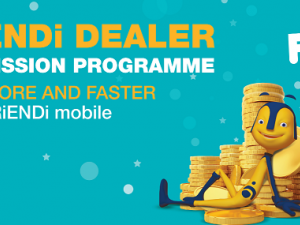 Muscat, June 01, 2016: With Dealers forming a crucial part of the Distribution and sales to customers of SIM cards and Recharge vouchers, FRiENDi mobile is introducing a new opportunity to help Dealers earn more money in commissions. Valuing its Dealer relations and recognizing it as an integral part of their success, FRiENDi mobile, the Sultanate's third-biggest mobile service provider, has launched this new one-of-a-kind programme for all its registered Dealers. The FRiENDi Dealer Commission Programme provides a great commission and incentive scheme that works on new innovative technology that ensures that Dealers are paid their commissions the next working day. See what our dealers have to say about us here.
To announce and introduce this exclusive programme and as part of FRiENDi mobile's ongoing support to its Dealers, a launch event was conducted at the Al Falaj Hotel in Muscat on the 31st of May 2016. FRiENDi mobile Dealers from all across Muscat got a chance to interact with the FRiENDi mobile team and senior management to deepen their understanding of how the mechanics of this new Dealer programme works.
The FRiENDi Dealer Commission programme is themed around the central idea the opportunity to 'Earn more and faster with FRiENDi mobile'. The programme ensures that dealers earn commission for every FRiENDi transaction they perform. This is either the activation of SIM or the sale of recharge to support customers buying data or voice plans or bundles. The commission earned is paid in recharge transferred to the Dealers FRiENDi SIM and can be resold to customers as Recharge, enabling dealers to turn their commission into cash. Every Dealer can monitor their commissions can instantly through the FRiENDi mobile Dealer App, allowing Dealers to track their earnings. FRiENDi mobile also has a dedicated Dealer Support Team to answer any Dealer inquiry that might arise.
"Each sale of a SIM or Recharge or activation of data or voice plan counts, so we want to make sure that we reward our valued Dealers for every transaction and provide a great new opportunity and incentive to earn more, paid almost instantly, direct to Dealer. We are of course now delighted to announce our FRiENDi Dealer Commission Programme and provide this new level of Dealer rewards", said Alex Bennett, Chief Executive Officer, FRiENDi mobile. "We, of course, recognize that a key part of our successful commercial operations is due to our Distribution strategy and our FRiENDi Dealers are a key component in this channel strategy. Their commitment, backing, and loyalty to our brand has been core to the where are today. Our Dealers are a fundamental part of generating sales and FRiENDi Sims and recharge to maintain the right kind of contact and advice with our customers."
Being in direct contact with the customers, Dealers understand the market and the completive mobile landscape. They provide invaluable support by advising customers on the latest Starter Pack promotions or the right data or international voice call plans. These factors are crucial to ensure that the customers have a flawless experience with FRiENDi mobile.
How does the commission programme work? Here is the video that explains it simply.
Media Contact
For further information or to request an interview, please contact:
FRiENDi mobile Oman
Joseph Rajan, Marketing Operations Manager
Phone

+ 968 24584713

Email