March 26, 2023
FRiENDi mobile Unites Omani Youth in Exciting Ramadan Football Tournament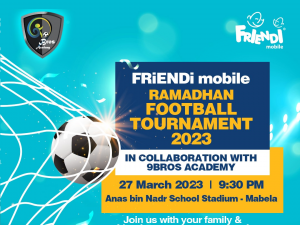 FRiENDi mobile is proud to sponsor the 9 Bros Academy football tournament this Ramadan, as part of its ongoing commitment to support the Omani youth and celebrate the spirit of the holy month. The tournament will take place at the Anas bin Nadr School in Mabelah, starting from March 27th, 2023.
Featuring 16 teams from prominent academies and football schools, including 9BROS Academy, Limitless Academy, Al-Mawaleh Academy, Jonior Star Academy, Alpha Football Academy, Al-Shalami Academy, Al-Qadisiyah Academy, Seen Sport Academy, Galacticos Academy, and Anas bin Nadr School, the competition aims to foster healthy competition and camaraderie among the participants.
Shadli Al Abdulsalam, Commercial Director of FRiENDi mobile, remarked, "At FRiENDi mobile, we are dedicated to empowering the Omani youth and nurturing their talents. This football tournament is a perfect platform for these young athletes to showcase their skills and foster a spirit of togetherness during the holy month of Ramadan."
Echoing the sentiment, Suleiman Darwish Al Alawi the Manager of 9 Bros Academy added, "We are grateful for FRiENDi mobile's support in organizing this tournament, which brings together the best football talent from across the Sultanate. Together, we are creating a positive and competitive environment that inspires our young athletes to achieve their full potential."
FRiENDi mobile invites the community to attend and support the participating teams, as they unite for a thrilling tournament experience, in line with the spirit of Ramadan.
Media Contact
For further information or to request an interview, please contact:
FRiENDi mobile Oman
Manal Moosa Al Balushi
Phone

+968 24584700

Email