November 3, 2015
Empowering locals
New members on board!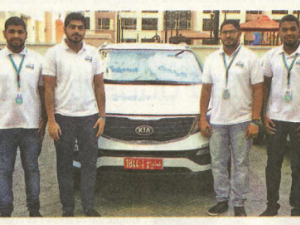 Muscat, November 03, 2015: FRiENDi Mobile, Oman's 3rd largest mobile service provider has kept up its commitment, serving not only its varied customers but also the country as a whole.
Respecting the Omanisation initiatives of the country, FRiENDi mobile has a strong workforce of Omani nationals actively contributing with their valuable expertise to the company.
FRiENDi mobile has recently recruited Omani nationals to the position of field sales merchandisers who have been well trained and motivated to carry out key responsibilities such as in-store dealer training, dealer sign-up and also the general sales of FRiENDi mobile products.
More than just merchandisers, these key personnel work as brand representatives of FRiENDi mobile; living by the company's values and help in training dealers to provide customers with quality mobile services, be it data plans or voice calls. The merchandisers are also trained to ensure visibility of all the FRiENDi mobile products by supporting the installation of the point of sale materials like posters, stickers etc. In the outlets. A major portion of their profile is liaising with dealers on product promotions and assisting them in filling the activation forms as well as helping them to use the app to get customer's active.
Advancing beyond the capital to cover the remotest corners of the Sultanate, the merchandisers work dutifully to deliver FRiENDi mobile's products to every region, simultaneously generating awareness amongst customers and taking care of all promotional activities. Regular dealer supervision by visits to the outlets ensures that the dealers receive adequate training on new products and services. A well-trained and informed dealer workforce with the rights products and the ability to provide excellent service contributes not only successful and happy dealers, but ultimately satisfies customers. The capability to undertake and carry out even simple tasks flawlessly such as SIM card activation, easy recharges or information on the ongoing campaigns, means that they are best places to provide great advice to customers on FRiENDi mobile propositions.
"Oman has a huge workforce of talented people who have the willingness to learn and the zeal to achieve new heights. As a key corporate company, it is our duty to exploit these talents and bring out the best in our people. Giving them the platform to do greater things and achieve milestones. Through the course of an employee's tenure with FRiENDi mobile, we supplement their main training programs with short personal development classes and regular product and service briefs. This keeps our team motivated to perform better so they are prepared to handle even the most crucial market challenges", said Adnan Al Alawi, COO, FRiENDi mobile. "At FRiENDi mobile we make sure our employees grow with the company, both as individuals, as well as professionally."
Considering Omanisation as a core practice for FRiENDi mobile, the company has taken all such endeavors to recruit and train Omani nationals.
The recruitment of sales merchandisers is an ongoing process and interested candidates can still contact FRiENDi mobile's human resources section for further details.
Media Contact
For further information or to request an interview, please contact:
FRiENDi mobile Oman
Joseph Rajan, Marketing Operations Manager
Phone

+ 968 24584713

Email