May 2, 2023
FRiENDi mobile Oman Partners with Starlink to Strengthen Recharge Distribution in Oman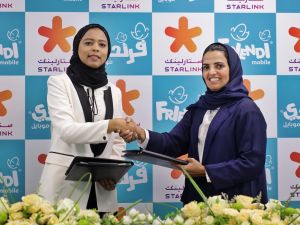 FRiENDi mobile Oman, a leading mobile network operator in Oman, is proud to announce its partnership with Starlink, a leading distributor of telecom products in the GCC region, to enhance the distribution of electronic recharge services in the Sultanate of Oman. This collaboration aims to increase the penetration and availability of electronic recharge in Oman, offering a more convenient and seamless experience to FRiENDi Mobile customers.
With Starlink's vast expertise in telecom product distribution across the GCC region, FRiENDi Mobile Oman will capitalize on their professional proficiency in the distribution business to better serve its customers. The partnership is expected to significantly improve the accessibility and convenience of electronic recharge services for FRiENDi Mobile users throughout Oman.
Salma Nasser Al Mawali, CEO of FRiENDi mobile Oman, expressed her enthusiasm about the collaboration, stating, "We are excited to join hands with Starlink, a leader in the telecom distribution sector. Their proven expertise and extensive reach in the GCC region will enable us to enhance our recharge distribution network and offer our customers a better experience."
Munera Al Dosari, Group CEO of Starlink, echoed the sentiment, saying, "We are proud to partner with FRiENDi mobile Oman, a company that shares our commitment to delivering exceptional services. This collaboration will enable us to further strengthen our presence in the Omani market and support FRiENDi mobile in providing exceptional electronic recharge services to their customers."
Media Contact
For further information or to request an interview, please contact:
FRiENDi mobile Oman
Manal Moosa Al Balushi
Phone

+968 24584700

Email