June 1, 2022
FRiENDi Rewards
Download the app to enjoy 'FRiENDi Rewards'!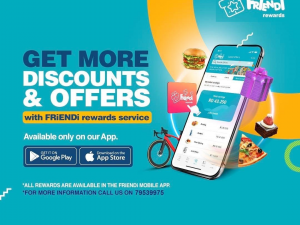 FRiENDi mobile customers can now get special offers and discounts at retail stores, restaurants and various other experiences in Oman!
Enjoy different types of offers every day & every week, available from various categories such as dining, entertainment, experiences and city sales available only on the FRiENDi mobile App in few easy and simple steps.
Lots of exclusive deals and rewards are waiting for you when you download FRiENDi mobile app.
1- Download the FRiENDi mobile app
Get FRiENDi mobile App for iOS | Get FRiENDi mobile App for Android
2- Select 'Rewards'
3- Choose your offer and get your promocode
4- Visit the location to enter the Merchant PIN and redeem the offer
For more information about FRiENDi Rewards, call us on +968 98400000.
We will keep adding more merchants as well as locations for you, to offer you more than just a mobile service.
Not a FRiENDi mobile customer yet?
Just get your FRiENDi mobile SIM from any of our SIM shops and get started!
Click HERE and visit the nearest FRiENDi mobile dealer to you and join us TODAY!
Media Contact
For further information or to request an interview, please contact:
FRiENDi mobile Oman
Manal Moosa Al Balushi
Phone

+968 24584700

Email