September 13, 2017
FRiENDi mobile launches mobile app
FRiENDi mobile customers can now manage their mobile account with a simple but state of the art mobile application.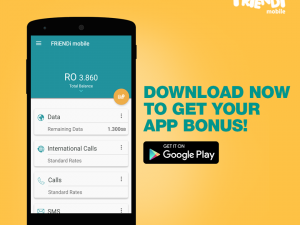 Muscat, September 13, 2017: The Sultanate's 3rd largest mobile service provider, FRiENDi mobile, has officially launched their highly anticipated new mobile app. The new mobile app has already met with widespread success in Oman with tens of thousands of downloads during the soft-launch phase. The app adds emphasis on FRiENDi mobile's mission to keep people connected and to help them get the best possible value on their mobile service.
The FRiENDi mobile app, hailed for its simplicity and ease of use, introduces the best in class design and a range of features that gives customers complete control over their account from the convenience of their mobile.
Commenting on the efficient features of the new app, Alex Bennett, CEO, FRiENDi mobile Oman noted, "We're delighted to officially launch the new FRiENDi mobile app. The design is simple, the functions are secure and allow customers to recharge within the app. This great feature is our new in-app payment service, allowing customers to securely purchase recharge using a credit or debit card and store their card details for future payments. This means customers can recharge when they want, 24/7, wherever they are. No need to visit a shop to buy recharge and also fits our strategy to digitize recharge purchasing and increase customer choice and flexibility. What's more, the app mirrors FRiENDi mobile's commitment to using technology to contribute to any improvement to the environment and reduce waste by encouraging customers to recharge online without using traditional plastic or paper vouchers. In addition, through the app, customers can easily transfer mobile credit to their family & friends locally as well as internationally. The app also allows users to monitor their credit and data consumption in real time. Lately, using the app does not cost customers a Baiza – the app, like the website, can be used free of charge within Oman with a FRiENDi mobile SIM."
Eugen Comendant, Marketing and Sales Director at FRiENDi mobile said, "An outstanding customer experience is one of the core pillars as part of our brand values. We are again proud to lead the way in Oman's market with the launch of our FRiENDi mobile app, maintaining our commitment to our customers for delivering the outstanding customer experience they expect from FRiENDi mobile. We encourage all of our customers to download the FRiENDi mobile app today and explore the special features and benefits on offer. Even without a FRiENDi mobile SIM, the app is open to everyone who would like to get to know us."
The FRiENDi mobile app is supported by the latest versions of Android and is available for free download from the Google Play store with an iOS version for iPhone users coming shortly.
Joining the FRiENDi mobile network is easy and customers can do so without changing their current mobile number, with the Mobile Number Portability service.
FRiENDi mobile is dedicated to delivering the best value for money with value-driven 4G mobile data plans, and lower local and international calling rates.
Media Contact
For further information or to request an interview, please contact:
FRiENDi mobile Oman
Joseph Rajan, Marketing Operations Manager
Phone

+ 968 24584713

Email