February 25, 2019
Lavanya Nilavu - A cultural event
Beauty of the moonlight.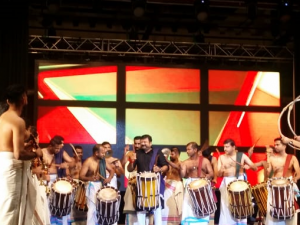 Muscat, February 25, 2019: FRiENDi mobile sponsored Lavanya Nilavu, an entertainment show featuring popular celebrities from the Malayalam film industry.
The event was held at the City Amphitheater in Qurum on 15 February and was witnessed by over 1000 people. The show featured cinema personalities like Jayaram, Anu Sitara, Manasa, Sarayu, Uppum Mulkakkum team & others.
Our customers who speak the Malayalam language were sent invites to attend the event through bulk SMS in addition to a 'Like & Share' contest that was done on the FRiENDi mobile Facebook page. 3 lucky winners were given tickets to attend the show.
The latest FRiENDi mobile SIM Starter Pack, as well as the new data offers, were advertised at the venue by our team of promoters. Participation in such events helps to generate brand recall as well as gets customers to engage more closely with the brand.
Media Contact
For further information or to request an interview, please contact:
FRiENDi mobile Oman
Joseph Rajan, Marketing Operations Manager
Phone

+ 968 24584713

Email