November 19, 2018
National Day Celebration
FRiENDi mobile team celebrates Oman's 48th National Day!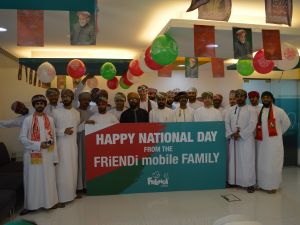 Muscat, November 19, 2018: The FRiENDi mobile team got together as one family to celebrate Oman's 48th National Day, expressing their love for His Majesty Sultan Qaboos bin Said and his visionary leadership that has laid the foundation for a modern Oman.
The celebrations covered the entire month of November where the FRiENDi mobile office and kiosks were well decorated and a heartwarming National Day video was created and shared on our social media pages to reiterate the great progress that the nation has made since 1970.
The team members were dressed in the Omani attire during the gathering and a traditional sumptuous lunch was served.
Media Contact
For further information or to request an interview, please contact:
FRiENDi mobile Oman
Joseph Rajan, Marketing Operations Manager
Phone

+ 968 24584713

Email