November 16, 2015
New CEO joins FRiENDi mobile
The FRiENDi mobile team welcomes Alex Bennett.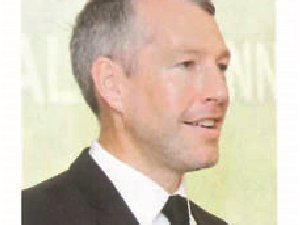 Muscat, November 11, 2015: FRiENDi mobile, Oman's 3rd largest telecom service provider recently announced the appointment of Alex Bennett as their new Chief Executive Officer. FRiENDi mobile has recognized this as a significant milestone in the company's history and a start of a new chapter in the growth and prosperity of the company.
Alex Bennett will succeed Martin Glud, the former CEO of FRiENDi mobile, after his dutiful completion of tenure with the company. As a visionary leader who was persistent, determined and full of dedication, Martin's valuable contribution received due appreciation by the Board of Directors.
Alex Bennett will bring to FRiENDi mobile his 15 years of experience in the telecom industry handling both consumer and business products and services. He has also handled extensive network operator products and European Telecoms reseller portfolio operations and distribution. His key recent focus on leading the due diligence process behind building new European MVNOs and internal MVNE technology to deliver profitable and operationally stable MVNO products has earned him much recognition.
On his appointment as the CEO of FRiENDi mobile, Alex Bennett said, "It is indeed an honor to be bestowed with this instrumental and challenging role as the Chief Executive Officer of FRiENDi mobile, a company that has so quickly established itself as one of the leading telecom service providers, making a strong presence in the market and winning the hearts of its ever-expanding customer database. FRiENDi mobile has achieved a considerable amount in a very short time and I look forward to making a noteworthy contribution to further augment its success."
Thanking Omantel for its long-standing partnership, Alex Bennett said, "Speaking of collaboration, we work cohesively with Omantel continuing to provide uninterrupted connectivity and flawless service for FRiENDi mobile customers throughout the Sultanate."
Under the leadership of their new CEO, FRiENDi mobile continues working on its plans to introduce 4G networks that will greatly benefit its customers with faster downloads, further emphasizing the company's take on achieving seamless connectivity.
Focusing on ease of accessibility and customer convenience, FRiENDi mobile will continue to expand its retail outlets, dealer networks, and merchandising staff, covering the remotest parts of the country with dedicated and knowledgeable staff that are ready to tend to customer queries.
Alex Bennett holds a BA (Hons) in History and an MBA from Henley Business School. His prestigious qualifications are backed by his strong interpersonal and he is also well-versed with the technicalities of the vast telecom industry.
"We are elated to welcome Alex Bennett to our executive team. We are certain that his stewardship will be beneficial for the company and will aid in its continued strategic transformation," said Adnan Al Alawi, COO, FRiENDi mobile. "Alex is a people's person and we are confident that his inter-cultural leadership qualities, passion for the work and invaluable skills will go a long way in creating a fresh branding for the company. He has proved his ability to pioneer breakthrough products and services in competitive markets and we believe he is the ideal choice as FRiENDi mobile's new Chief Executive Officer."
"I hope to infuse fresh perspectives and bring in new strategies to catalyze the growth and prosperity of the company. Simultaneously, by efficiently utilizing the company's resources, we will come up with new plans, offers, and campaigns, thus creating an innovative competitive position and a 'real' meaning for today's modern mobile consumer. I'm certain that the company's dedicated employees coupled with the creative ideas envisaged by the board of directors will help me to make the most of my skills and knowledge to serve the company and take it to even greater heights," said Alex. "FRiENDi mobile is one of the youngest and fastest growing MVNO. With its unconditional attention on customer care, innovative international and local offers thoughtfully chalked out with an eye on the market demands and overall simplicity in subscriptions FRiENDi mobile will continue to be a favorite not only for those that long for good international connectivity, but even a widely accepted choice amongst the local market."
Media Contact
For further information or to request an interview, please contact:
FRiENDi mobile Oman
Joseph Rajan, Marketing Operations Manager
Phone

+ 968 24584713

Email