April 28, 2015
FRiENDi mobile inaugurates a new shop in Salalah
FRiENDi mobile now caters even better services to it's customers in Salalah.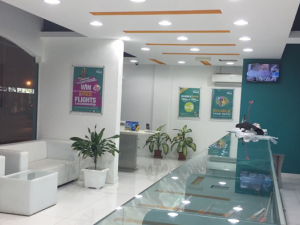 Muscat, April 28, 2015: Keeping its promise to deliver nothing but the best service in the telecom industry, FRiENDi mobile, Oman's 3rd largest mobile service provider is dedicated to increasing its distribution coverage throughout the Sultanate. With a line of new stores opened in the recent months such as the one in Salalah and several others to be inaugurated soon, FRiENDi mobile promises to be as close to their customers as is required by them. Apart from the number of new branch locations, FRiENDi mobile has also signed up a number of distributors across the country; from those located in the busiest town centers to those that cater to a very limited population.
"Our aim is to reach all our customers, from every nook and corner of the Sultanate. All our customers are equally special to us and their needs are our priority. To start with servicing their needs, the very first step is to be easily accessible to them," said Adnan Al Alawi, COO, FRiENDi mobile. "With dedicated store locations and trained distributors and dealers spread across the country, we are never too far from our customers."
FRiENDi mobile is now available in over 7000 shops – from dedicated FRiENDi mobile stores inside all leading malls to small shops in the distant suburbs, they leave no street uncovered. Each distributor is also closely tapped to analyze the volume of sales so as to understand the demand in the region as well as to ensure a steady and uninterrupted supply to meet the required demand.
FRiENDi mobile also imparts exclusive training sessions to their dealers as they value them as an important link to their users. Dealers also benefit from special offers and are supported with all the aid and rewards that ultimately filter down as better service to the end users. In this way, FRiENDi mobile has an extensive chain of reliable distributors who understand the products and services which can often be of great assistance to customers.
"We have taken various initiatives to be easily reachable to our customers," said Adnan. "We are confident that with the kind of coverage we have with our distribution networks, our users can be assured of FRiENDi mobile services no matter where they go."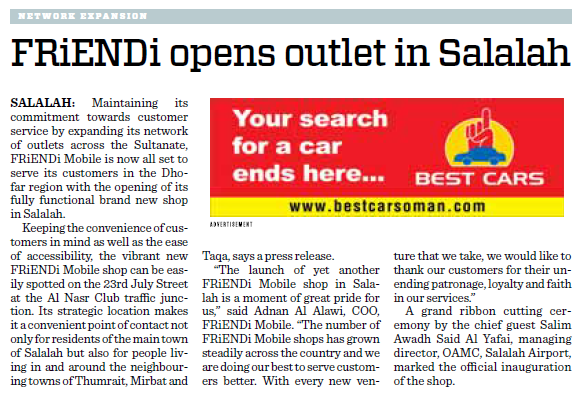 Media Contact
For further information or to request an interview, please contact:
FRiENDi mobile Oman
Joseph Rajan, Marketing Operations Manager
Phone

+ 968 24584713

Email