January 28, 2016
10% bonus on recharge
FRiENDi mobile customers get to enjoy 10% bonus on recharge.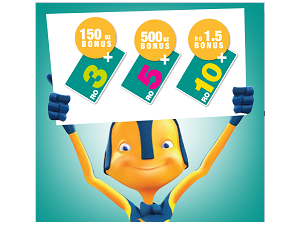 Muscat, January 28, 2018: FRiENDi mobile, the Sultanate's third-biggest mobile service provider has come up with yet another amazing offer. Customers can now get up to an incredible 10% bonus credit on recharge – by just recharging their phone as normal. From 25 January until 04 February 2016, FRiENDi mobile customers recharging for RO 10 will get RO 1 bonus; recharging RO 5 gives customers a 500 Bz bonus and finally recharging RO 3 gives 150 Bz bonus. The bonus credit is given instantly and valid for 7 days from the day of recharge.
FRiENDi mobile's recharge presence in over 7000 outlets across Oman provides customers the flexibility and convenience to make the most of the offer. Physical recharge cards are available from dealers and outlets, Electronic vouchers are available at the till of your local supermarket (e.g. Carrefour, Lulu and Sultan Centre) or customers can also choose to recharge online at www.friendimobile.om using a credit or debit card. Not only that, there is no limitation on the number of times a customer can recharge and bonus credit can be used for whatever the customer wants – e.g. data, local calls or international calls.
"We know that everyone is tightening the belt in 2016, so for a limited time, FRiENDi mobile is doing what it can to give a little more to our loyal and new customers, for free. We have a fantastic customer base and are welcoming large volumes of customers to our network every day who are already excited about the great value prices we already offer," said Alex Bennett, CEO, FRiENDi mobile. "It's a super offer, valid for 11 days and we are looking forward to seeing the demand for recharge increase and giving back to customers, rewarding them for their loyalty. So don't miss out!"
FRiENDi mobile offers have made them a favorite amongst the expat as well as the local community in Oman. With over 600,000 FRiENDi mobile customers and numbers rising fast, FRiENDi mobile really is showing the results of its vision to provide a great alternative choice to customers for their mobile service provider and great value to those with a piece of their heart abroad.
Media Contact
For further information or to request an interview, please contact:
FRiENDi mobile Oman
Joseph Rajan, Marketing Operations Manager
Phone

+ 968 24584713

Email