February 25, 2016
FRiENDi mobile and Sale International partnership
FRiENDi mobile partners with Sale International to provide electronic recharge services to customers.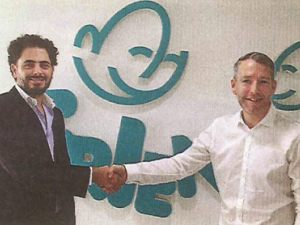 Muscat, February 25, 2016: Ever since its launch in 2009, FRiENDi mobile, Oman's 3rd biggest mobile service provider, has been continuously working towards keeping customers happy with great products & services. The company's partnership with their major recharge distributor, SALE International since 2010 has not only ensured excellent distribution of the product but also easy access of recharge for FRiENDi mobile customers living even in the remotest parts of the Sultanate.
SALE International focuses on distribution with being specialists in the area of Electronic recharge vouchers. With branches in every major city of the Sultanate, the company covers the majority of Oman's population with FRiENDi mobile recharge and thus services customers in a fast and effective manner. Customers can get FRiENDi mobile recharge in around 7000 outlets in Oman out of which over 2000 outlets sell Electronic recharge vouchers serviced by SALE International. With the advent of Electronic vouchers, customers have benefitted in getting an alternate channel to service their recharge needs. The hassle of scratching physical recharge cards is done away to a large extent and dealers do not have to worry about running low or out of physical cards. Large hypermarkets like Carrefour where customers can purchase recharge cards at the cash counters embrace the concept of Electronic vouchers as customers are never turned down and disappointed over not being able to purchase a recharge due to lack of availability.
"At FRiENDi mobile, we appreciate the kind of service that SALE International has extended to us. We have indeed benefitted from their expertise and will continue to nurture this business relationship we share with them to reach out to more customers", said Mr. Alex Bennett, CEO, FRiENDi mobile.
According to Mr. Mohamad Elansari, CEO, SALE International Oman, "We are happy to be associated with FRiENDi mobile and reach out to customers through our efficient distribution systems. Their customer-centric approach has made them a well - established brand amongst both the expats and locals in Oman."
Media Contact
For further information or to request an interview, please contact:
FRiENDi mobile Oman
Joseph Rajan, Marketing Operations Manager
Phone

+ 968 24584713

Email