November 30, 2017
FRiENDi mobile powers "Portrait By A Nation"
FRiENDi mobile powers nationwide art competition.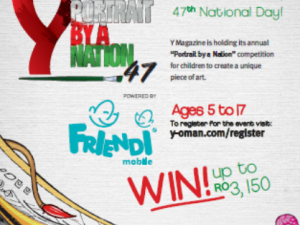 Muscat, November 30, 2017: FRiENDi mobile powered the 4th edition of 'Portrait by A Nation', an annual event where children of various age groups from all over Oman participated in an art competition as part of the National Day celebrations. The event which was initiated by Y Magazine had an impressive 2200 entries received from children between the ages of 5-17 years old.
Children were given canvases and the portrait of His Majesty and they had to paint in the most creative and interesting manner possible. Prizes were awarded to winners across the different age categories.
"We feel honored to be associated and reward the budding young artists of this country. The month-long celebrations as part of His Majesty's birthday every year just shows the magnanimity of the love and respect which is bestowed on our beloved leader by the Omani nationals and expatriates in this country", said Eugen Comendant, Marketing Director, FRiENDi mobile.
Media Contact
For further information or to request an interview, please contact:
FRiENDi mobile Oman
Joseph Rajan, Marketing Operations Manager
Phone

+ 968 24584713

Email