October 26, 2022
Dealer networking drive by FRiENDi mobile management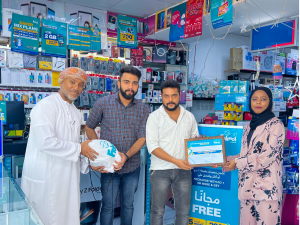 FRiENDi mobile is a company that values its customer relationships and the key to our success is our Dealer base.
As part of its efforts to establish a stronger and more intimate relationship with their dealers, FRiENDi mobile visited the top performing dealers across the country. The visit by FRiENDi's CEO along with its marketing and sales team demonstrated a commitment towards strengthening relations and fostering a healthy working partnership with all its stakeholders.
Our CEO, Salma Al Mawali along with Shadli Al Abdulsalam Commercial Director went on a visit with the sales leadership team to engage directly with dealers by firstly thanking them for their continuous dedication and efforts in selling FRiENDi products, and secondly to get feedback with the objective of further enhancing and improving our services.
"Dealers play a crucial role in connecting customers to the latest devices, plans and services. We value our dealer relationships, recognizing their hard work of selling FRiENDi mobile services every day", said Salma Al Mawali.
FRiENDi mobile dealers sell SIM-cards, data cards and recharge cards, and support us in educating our customers about our products and services. FRiENDi mobile also has partnerships with a number of Indirect Distributors, who cover more than 2000 dealers nationwide all across the Sultanate.
"We believe in the power of engagement and choose to align our goals from a business as well as a cultural perspective, hopefully making us a trustworthy partner for many years to come", said Shadli Al Abdulsalam
Media Contact
For further information or to request an interview, please contact:
FRiENDi mobile Oman
Manal Moosa Al Balushi
Phone

+968 24584700

Email