December 24, 2018
Bangladesh Victory Day 2018
Celebrating Victory day.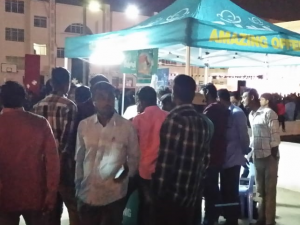 Muscat, December 24, 2018: Victory day, also known as 'Bijoy Dibos' is a national holiday in Bangladesh celebrated on December 16 to commemorate the victory of the allied forces in the Bangladesh Liberation War in 1971. Every year, on this occasion, the Bangladesh School Muscat joins this celebration with a carnival on the school ground that has a huge turnout of people from the Asian subcontinent.
To join the festivities, FRiENDi mobile put up stalls to promote our products and create brand awareness. The event featured other stalls selling traditional products and cuisine. Since the vast majority of our existing base is from Bangladesh, the event gave us the right kind of visibility directly to our target segment.
Media Contact
For further information or to request an interview, please contact:
FRiENDi mobile Oman
Joseph Rajan, Marketing Operations Manager
Phone

+ 968 24584713

Email