November 1, 2016
FRiENDi mobile Winter Cricket Cup 2016
The FRiENDi mobile Winter Cricket Cup begins on 20 November 2016.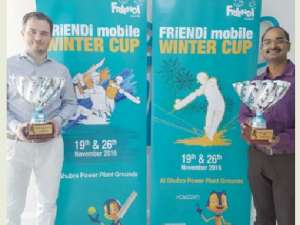 Muscat, November 01, 2016: The 20th edition of the FRiENDi mobile Winter Cricket Cup kicks off on the 19th of November at the Al Ghubra Power plant grounds. The tournament which is extremely popular among the Asian cricket lovers will have 20 teams in the men's category and 6 teams in the women's category. The finals will be played on the 26th of November.
The tournament will be conducted as a day event on November 10 and 26. The organizers have declared a lot of attractive prizes such as the champion's cup, a cash award and gift hampers for all players, runners-up cup. FRiENDi mobile SIM cards with free 1-year internet will be given to the best of the players in each category.
Media Contact
For further information or to request an interview, please contact:
FRiENDi mobile Oman
Joseph Rajan, Marketing Operations Manager
Phone

+ 968 24584713

Email