September 17, 2022
World Cleanup Day 2022 at Al Hail North Beach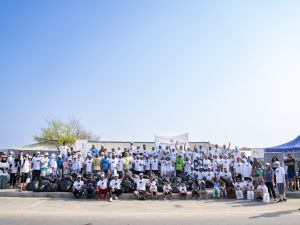 As part of FRiENDi mobile's sustainability objectives, FRiENDi mobile chose to participate in the World Cleanup Day event on 17 September 2022, organised by the Environment Society of Oman (ESO); hosted at the Al Hail North Beach.
125 participants cleared over 1.5 tons of waste from Oman's beaches for World Cleanup Day! Thanks to all who to showed up on a hot Saturday morning to come together for the sake of our environment. The benefits of cleanups are that anyone can do it for free and help the environment as they do it. Let's keep Oman's beaches clean.
FRiENDi mobile Oman distributed reusable water bottles and bags to the volunteers aligning with its less plastic & sustainability plans.
If we can continue to clean the beaches, everyone who wants to go there does not have to be worried about constantly seeing trash wherever they walk. Even if we can't go to the beach every weekend or whenever we like, we can always go when we have spare time, even once a month, with family or friends. Even the smallest trash we help pick up can help the ocean and the marine creatures. And if we might not be able to go to the beach at all, we can always try to use reusable materials for carrying food and water, home-related products and even our day to day activities.
Media Contact
For further information or to request an interview, please contact:
FRiENDi mobile Oman
Manal Moosa Al Balushi
Phone

+968 24584700

Email