February 26, 2019
Xpress counters at Lulu Hypermarkets
Easy access for FRiENDi mobile customers at the leading hypermarket chain in Oman.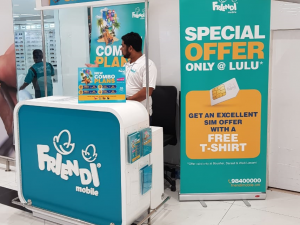 Muscat, February 26, 2019: FRiENDi mobile has recently launched new express counters at Lulu Hypermarkets in Bousher, Darsait and Wadi Al Lawami. As a special offer, FRiENDi mobile will be giving away a free T-shirt on the purchase of SIM at any of the 3 stores. In the coming months, the other locations of the hypermarket will also have the counters installed and ready for operations.
"Being associated with Oman's leading chain of hypermarkets, we are proud of our partnership with Lulu and we look forward to achieving new milestones with this venture," said Eugen Comendant, Director of Marketing.
FRiENDi mobile was launched in April 2009 and offers a great prepaid mobile experience that combines exciting mobile offers and services with competitive prices. FRiENDi mobile offers competitive data and calling rates, with outstanding customer service in 6 languages coupled with service availability across the Sultanate.
Media Contact
For further information or to request an interview, please contact:
FRiENDi mobile Oman
Joseph Rajan, Marketing Operations Manager
Phone

+ 968 24584713

Email