September 21, 2021
Carbon offset plan for Zero Emissions Day
Working towards our target for zero net carbon to support Oman Vision 2040.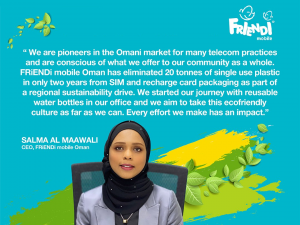 FRiENDi mobile Oman is reaffirming its pledge to minimize its impact on the environment with the launch of a carbon offset initiative for Zero Emissions Day on September 21st.
FRiENDi mobile Oman is seeking to lower its carbon footprint in the Sultanate by buying up carbon offsets for its Oman office in Muscat and thereby become a carbon neutral company. This is part of a wider commitment from FRiENDi mobile (part of Virgin Middle East & Africa) to minimize the impact of digital services in the Sultanate and the planet as a whole.
To do this the company has begun a series of initiatives to harness the unlimited potential of connectivity and digitization to accelerate a zero waste, zero carbon future faster and in a more sustainable manner. As part of its ongoing efforts, FRiENDi mobile has already removed over 50 tons of single-use plastic across the region, with operations in Oman and Saudi Arabia now 100% single-use plastic free. FRiENDi mobile Oman is also currently reviewing changes to internal processes as well as identifying green investing opportunities to help eliminate carbon emissions.
"At FRiENDi mobile Oman we firmly believe in our collective responsibility to help safeguard the planet for future generations. To do this we are taking an active role to reduce our carbon footprint in a number of ways, including through our latest initiative by carbon offsetting the impact from our office in Oman. By launching this scheme on Zero Emissions Day we hope it brings wider attention the action we can all take to protect the environment," said Salma Al Maawali, Chief Executive Officer of FRiENDi mobile Oman.
"This forms an integral part of our commitment towards corporate citizenship and our desire to successfully reach our target for zero net carbon and zero waste across all our operations by 2025. These efforts are fully in line with Oman Vision 2040, and we are particularly focused on ensuring the goals for responsible consumption and protection as well as climate action."
In addition, FRiENDi mobile Oman will plant hundreds of trees in school locations through Carbon Footprint Ltd. (U.K.) to not only support local wildlife habitats, but also help educate children. For each tCO2e offset, a tree is planted with an additional tCO2e offset from a VCS (Verified Carbon Standard) Tree Buddying project to guarantee a reduction in emissions.
The carbon offsetting plan is part of a broader strategy that aims to encourage greater action on the climate FRiENDi mobile Oman is currently examining ways to launch an option for customers to offset the carbon footprint they generate from connectivity and data usage via an app, as well as obtaining official certificates to confirm carbon neutrality.
The company is also working towards sourcing biodegradable SIM cards this year. It has recently completed an audit of its vendors to ensure they are working to improve their business standards in this regard.
"The need for action on the climate is clear and at FRiENDi mobile we are taking the necessary steps to protect the world we live in. As a company we have made a firm commitment to lend our support by focusing on carbon offsetting projects around the world and Zero Emissions Day is the ideal time to reaffirm our pledge to act,".
"By setting out an ambitious yet achievable roadmap of milestones, we are well on our way to becoming a carbon neutral company by 2025. The various projects we have announced earlier this year and summarized form an integral part of our proactive commitment towards corporate citizenship in the Sultanate."
Sustainability is a core business focus for the Group and forms part of Virgin Enterprise's global commitment to sustainability. In line with this, FRiENDi mobile Oman continues to prioritise the wellbeing of people and the planet through a multitude of initiatives across the business.
Media Contact
For further information or to request an interview, please contact:
FRiENDi mobile Oman
Manal Moosa Al Balushi
Phone

+968 24584700

Email