October 25, 2011
FRiENDi mobile's customer wins the Mitsubishi Pajero!
Lucky customer wins the FRiENDi mobile Online-Off road promotion.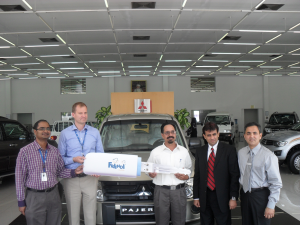 Muscat, October 25, 2011: Amidst a glittering ceremony, FRiENDi mobile announced the name of Harjit Singh as the winner of a swanky new Mitsubishi Pajero GLX, the grand prize for FRiENDi mobile's special Online-Off road promotion for the Internet.
The key was handed over to the winner by Martin Glud, CEO, FRiENDi mobile at Mitsubishi's Azaiba showroom in Muscat. In addition to the grand prize, there were 10 weekly lucky draws where FRiENDi mobile customers won one whole year of free internet connection as a part of the special promotion. On an ecstatic note, the winner, Harjit Singh commented that "I have been using a FRiENDi mobile modem for the last few months and am extremely happy with its performance. FRiENDi mobile's commitment to quality has been great, be it in the products and services offered or on the Pajero which I have won. I thank FRiENDi mobile for making a world of a difference to my life."
"It is always a pleasure to meet happy smiling customers and I would like to congratulate Harjit Singh on winning the grand prize of a brand new Mitsubishi Pajero GLX.
We have already moved forward to more attractive offers within our full mobile portfolio of calls, SMS, Internet, and online services. We are grateful that customers depend on our services to stay in touch with their loved ones," said Martin Glud, CEO, FRiENDi mobile. The monthly packages for FRiENDi mobile's Internet services have been recently upgraded from 1GB to 2GB at RO 9.9 only and FRiENDi mobile has also launched additional 4 GB packages for a very competitive rate of RO 15 per month."
Media Contact
For further information or to request an interview, please contact:
FRiENDi mobile Oman
Joseph Rajan, Marketing Operations Manager
Phone

+ 968 24584713

Email